Diagnosed patient number 22 worldwide!
In the summer of 2020 our 5-month-old daughter suddenly jerked her arms and legs repeatedly and cried uncontrollably. We watched in horror, quickly googled the symptoms, and rushed to the emergency room.  After repeatedly being asked if Emma had lost skills, an overnight surveillance and brain activity measurement, the report was:
Diagnosis: West syndrome, a rare form of severe juvenile epilepsy

Cause: unclear

Prognosis: unfavorable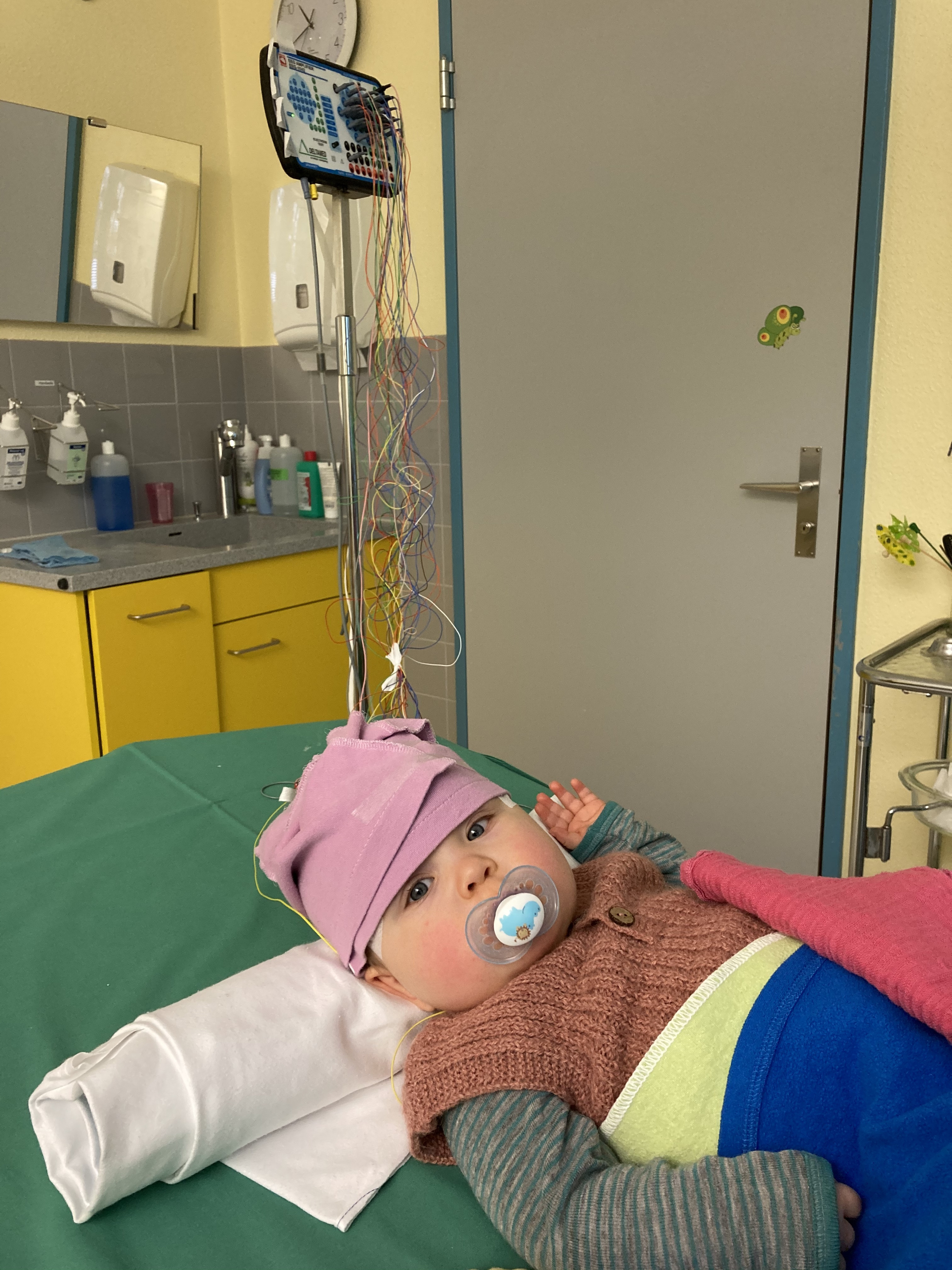 Emma was started that day on very high doses of two anti-epileptics to combat her brain-damaging seizures. We worried one of the drugs would impair her vision and ability to drive, but the doctors said this should be the least of our worries. We left the hospital after three days with a sense of despair and very little information on how to cope.
In the following weeks, Emma brutally suffered from side effects and cried day and night. We were both on part-time leave from work and mobilized every resource we could for round-the-clock support: grandparents, aunt, a currently unemployed friend, and emergency child care services at our own cost. We organized night shifts so we could sleep a few hours at a time. With our hearts bleeding and zombie-like fatigue, our anxiety boiled over in everyday situations and we fought a lot.  We were at a loss of how to function in such extreme circumstances? How to deal with a prognosis that destroys your imagined future? How to live with anxiety about the future? How did other families support their child and partner? We longed for support from others who had gone through a similar experience to lean on as a couple and to learn from.
To uncover the cause of the epilepsy, Emma underwent a brain scan, blood analysis and gene test. We hoped they wouldn't find anything but they did: a de novo mutation in the gene AGO2 that wasn't seen in either of us. Emma was diagnosed patient number 22 worldwide. The updated report was:
Diagnosis: a novel rare, neuro-developmental disease with no name yet 

Cause: de novo mutation in gene AGO2

Prognosis: Uncurable. No treatment. Nothing you can do at the moment. 
The 21 known patients had both physical and mental impairments, and reading through their case reports broke our hearts. The clinicians knew little more. Just as we eased off one of the drugs and Emma's laughter came back, this diagnosis made our world crumble down. The lack of options felt like our hearts had been torn out, stabbed with a dagger and thrown down a cliff only to be run over by a truck. "Determine to feel well" felt like a cruel joke rather than a strategy to cope.